The frosty, snowy days of winter have arrived in Winnipeg once again, and not a moment too soon. Our city offers so many exciting activities for families to enjoy together in the sparkling snow, such as tobogganing, skating or even a pleasant walk to the library to pick up something new to read.
As the holiday season approaches, folks become a little bit nostalgic about recalling some of their favorite memories when getting together with family. So, I thought that this would be a wonderful time to ask Children's Services staff at the Library to share some of their favorite books for babies and toddlers with you. All of these books are available at Winnipeg Public library. Check some out, and make them your own family favorites. You can find us at this link: https://wpl.winnipeg.ca/library/
From Terri – Collections Librarian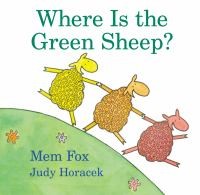 Where is the Green Sheep? by Mem Fox
I love this book. It never fails as a read aloud to a group or one on one. Rhymes and call-backs create the perfect reading together moment!
From Nellie at St. John's Library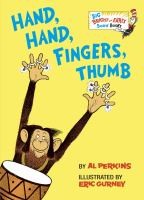 Hand, Hand, Fingers, Thumb by Al Perkins
I've always enjoyed Hand, Hand, Fingers, Thumb by Al Perkins Great rhyme and rhythm and they get to differentiate between hands, fingers and thumbs and participate in the drumming action.
From Jacq at Millennium Library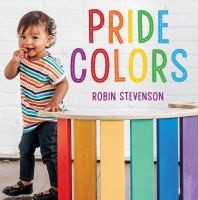 Pride Colors by Robin Stevenson
Colourful pictures of babies and their caregivers with each page depicting the different colours of the pride flag. A great introduction to how every family is unique and different.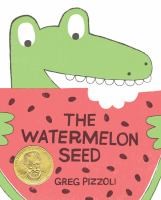 The Watermelon Seed by Greg Pizzoli
A fun, brightly illustrated book about an alligator who is scared that a watermelon is growing in his tummy after swallowing a watermelon seed. A silly and fun read aloud.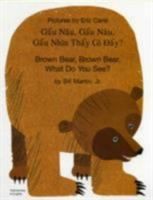 Brown Bear, Brown Bear, What do you see? by Bill Martin Jr.
My all-time favourite book for babies and toddlers. A nice rhythmic, rhyming text that prompts the kids to identify each animal, talk about colours and learn animals sounds. The repetition helps babies learn and gives toddlers confidence to help you read the story.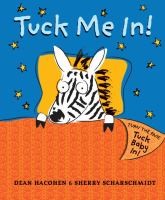 Tuck Me In by Dean Hacohen
A cute lift-the-flap book where each page you tuck in an animal. A good before bed story to read with little ones.
From David at Westwood Library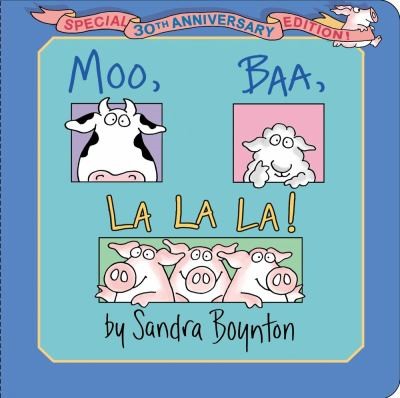 MOO BAA LA LA LA! by Sandra Boynton
My all-time favourite is MOO BAA LA LA LA! by Sandra Boynton. It's lyrical content and wording lends itself to interaction and noise making. Its pictures stand out because of the skillful use of empty space and thematically its wonderful-animals, farm animals, sounds, rhyming, silliness! I've used this book with glee for both baby and toddler settings.
From Ginny at West Kildonan Library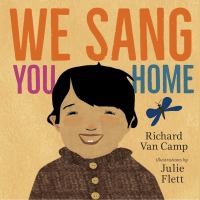 We Sang You Home, by Richard Van Camp
I really like We Sang You Home, by Richard Van Camp, illustrated by Julie Flett
I love this book because it is such a gentle read about being loved and wanted. When I read this book, I feel like I'm being wrapped in a warm blanket. Julie Flett is one of my favourite illustrators, too.
From Lori at St. James Library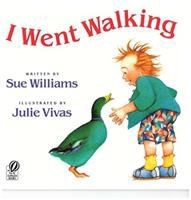 I Went Walking by Sue Williams
I enjoy the great refrains and bouncy rhythm when I read this story aloud. Sue Williams includes counting, animal sounds and cute illustrations in her book. which offers so much to talk about with your child.
From Denise at Osborne Library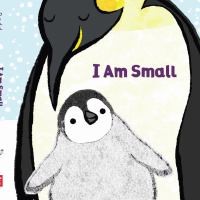 I am Small by Emma Dodd
I love everything by Emma Dodd. The messages are simple & loving & the illustrations all have a foil component that is eye catching for the littles.
From Daniel at St. Boniface Library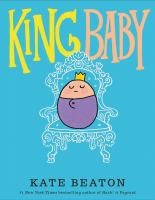 King Baby by Kate Beaton
A personal favourite is King Baby. It captures the cuteness of new babies and the worlds they inhabit. As the months slip away, their parents go from beaming with pride to growing increasingly exhausted and defeated. It sounds bleak but I promise there`s a happy ending. 😊

Nibi`s Water Song is available in both French and English. It`s about water rights and the continuing struggle for Indigenous people to have access to clean water. The story is wonderful and Chief Lady Bird is an incredible artist who brings it to life.
From Tamara at Millennium Library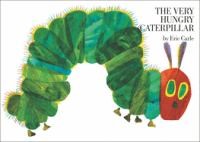 The Very Hungry Caterpillar by Eric Carle
My favorite book? There are so many! The Very Hungry caterpillar stands out for me as I have read this story to multitudes of children during Family Story Time programs at the library, when visiting schools and I have also shared this story with my own two daughters when they were very young. I also have a caterpillar puppet that helps me tell the story. This is a lovey tale where we see a caterpillar preparing to become a butterfly through learning colours, counting fruit and discovering science. The illustrations are created by the author, Eric Carle; they are delightful and open up a world of imagination for your child!
Compiled by Tamara Opar
Youth Services Head Librarian
Children & Teen Services, Millennium Library